Blood Hound is one of the 13 Devils in Tokyo Xtreme Racer: Zero. This means that he is one of the 27 bosses (We count #400 as a boss) in TXR:0. Beat enough team leaders and enough 13 Devils and he'll appear after defeating a rival. His real name is Dan Emura.
In-Game Description
Edit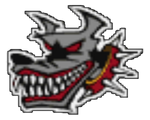 Initial Description
Edit
"All he cares about is getting out in front. Once he does, he will never look back."
Hint Desciption (Shown After Beaten)
Edit
"He drives a light-weight yet somewhat powerful vehicle. When battling, he makes sudden apperances from behind trucks and other larger vehicles."
Car Information
Edit
He drives a Type-S161VK (Customized Lexus GS300).
RGB: 255,255,0
RGB: 255,255,0
Car Specs
Edit
| Drivetrain | Weight | Horsepower | Displacement |
| --- | --- | --- | --- |
| FR | 3473 lb | 820 HP | 2997cc |
FR means front engine, rear wheel drive.
Ad blocker interference detected!
Wikia is a free-to-use site that makes money from advertising. We have a modified experience for viewers using ad blockers

Wikia is not accessible if you've made further modifications. Remove the custom ad blocker rule(s) and the page will load as expected.