Dodge Viper GTS
[[

|250px]]


Appearences

Chassis code

VGTS

Class

A

Drive type

Engine

Power

450ps

Weight

3377lb
The Dodge Viper GTS is a sports car manufactured by the American Chrysler Corporation. It has been featured in all TXR games except the first, generally as one of the fastest cars in the game.
Tokyo Xtreme Racer 2
Edit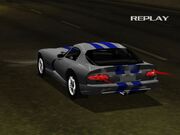 It is unlocked when you either defeat the wanderer which is Bloody Mary or the leader of the Face to Faith which is Summer Time Again.
Tokyo Xtreme Racer Zero
Edit
Tokyo Xtreme Racer 3
Edit
Unlocked by defeating Battle the Sailor Man in Nagoya.
It is one of the fastest cars in the game alongside the MCR GT-R, NOB Silvia, West Corvette, Ridox Supra and the Ford GT.
It is the car driven by Flame Dragon. Flame Dragon's version is 100kg lighter than the stock Viper.
Ad blocker interference detected!
Wikia is a free-to-use site that makes money from advertising. We have a modified experience for viewers using ad blockers

Wikia is not accessible if you've made further modifications. Remove the custom ad blocker rule(s) and the page will load as expected.