The Flame Dragon is the Flame Dragon's car which is a modified Dodge Viper GTS.
It is 100kg lighter than the stock Viper and making it a tad faster. It is one of the fastest vehicles in the game along with the MCR GTR, NOB S15 Silvia, West Corvette, Ridox JZA80 Supra and the Ford GT40.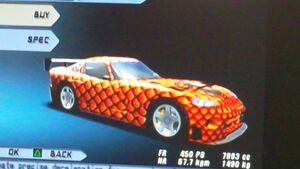 Specfications
Max Power: 450ps/5200rpm
Max Torque: 67.7kgm/3700rpm
Displacment: 7993cc
Aspiration: NA
Engine Type: V10
Drive Type: FR
Tread R.: 1540mm
Tread F.:1515mm
Mass: 1490kg
Ad blocker interference detected!
Wikia is a free-to-use site that makes money from advertising. We have a modified experience for viewers using ad blockers

Wikia is not accessible if you've made further modifications. Remove the custom ad blocker rule(s) and the page will load as expected.