The GM Firebird 2F (Pontiac Firebird 2F) is an American automobile made by Pontiac.
This generation of the Pontiac firebird was introduced between 1982 and 1992. This car is unlocked when you beat the Team ALPHA Leader which is Texas Wolf.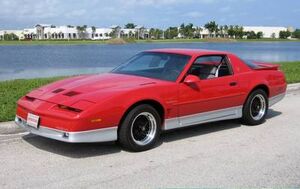 Specfications
Max Power: 92ps/4000rpm
Max Torque: 17.9kgm/2800rpm
Displacment: 2560cc
Aspiration: NA
Engine Type: L4
Drive Type: FR
Tread R. 1540mm
Tread F. 1545mm
Wheel Base: 2565mm
Mass: 1290kg
Ad blocker interference detected!
Wikia is a free-to-use site that makes money from advertising. We have a modified experience for viewers using ad blockers

Wikia is not accessible if you've made further modifications. Remove the custom ad blocker rule(s) and the page will load as expected.