Midnight Rose is a boss that appears in the Tokyo Xtreme Racer series.
Tokyo Xtreme Racer: Zero
Edit
In Tokyo Xtreme Racer 0, she drives a Mitsubishi 3000GT that's modified to look like a Ferrari 288 GTO.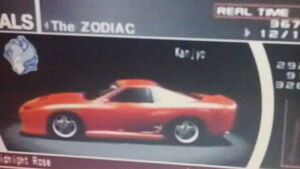 Info
Name: Jessica Hare
Bio
The way she drives is as gorgeous as the driver herself.
It may look like she isn't driving carefully, but this "carlessness"
pressures the opponent. She always keeps the car clean.
Car Info
Power: 913HP
Type: 4WD
Weight: 2927lb
Displacment: 3269cc
Tokyo Xtreme Racer 3
Edit
She returns in Tokyo Xtreme Racer 3 as a Boss. She drives the 3000-GT, however it does not have the Ferrari-Style bodykit from TXR0.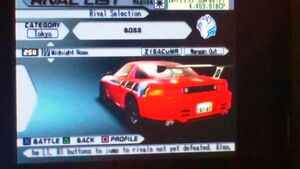 Basic Info'
Name: Kiyomi Kawagoe
Job: Unauthorized
Car: Midnight Rose
Motto: Parts are jewelry
Carreer: ?

2nd Info
In the past, she toed the mark of the Kanjou, but now she has moved her
territory to the wangan. Contrary to her regal demeanor, she is a rank
good-natured person.
3rd info
Her running style is as gorgeous as her appearence. Her style may seem rather rough,
but that is what invites pressure to her opponents. She is focused on dress up,
replacing any damaged or out of style parts.
Ad blocker interference detected!
Wikia is a free-to-use site that makes money from advertising. We have a modified experience for viewers using ad blockers

Wikia is not accessible if you've made further modifications. Remove the custom ad blocker rule(s) and the page will load as expected.