Midnight Rose is a recurring boss that appears in the Tokyo Xtreme Racer series.
Tokyo Xtreme Racer: Zero
Edit
In Tokyo Xtreme Racer: Zero, she drives a Mitsubishi 3000GT that's modified to look like a Ferrari 288 GTO.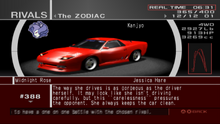 Name: Jessica Hare
Biography:
"The way she drives is as gorgeous as the driver herself. It may look like she isn't driving carefully, but this "carelessness" pressures the opponent. She always keeps the car clean."
Car Info:
Power: 913 HP
Type: 4WD (4-wheel drive)
Weight: 2927 lb
Displacement: 3269 cc
Tokyo Xtreme Racer 3
Edit
She returns in Tokyo Xtreme Racer 3 as a Boss (Wangan Out). She still drives the 3000GT, however it does not have the Ferrari style body-kit from TXR0 and instead has a red, white, and black paint job.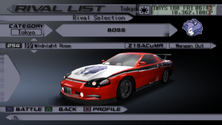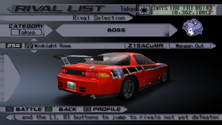 Basic Info:
Name: Kiyomi Kawagoe
Job: Unauthorized
Car: Midnight Rose
Motto: Parts are jewelry
Career: ???
Driver Info
Edit
"In the past, she toed the mark of the Kanjou, but now she has moved her territory to the Wangan. Contrary to her regal demeanor, she is a frank and good-natured person."
Car Info
Edit
"Her running style is as gorgeous as her appearance. Her style may seem rather rough, but that is what invites pressure to her opponents. She is focused on dress up, replacing any damaged or out of style parts."
Midnight Rose sticker
Midnight Rose (Z15ACuMR)