The Nissan Cefiro is a Japanese sedan that was introduced in 1988 as a 1989 model and was discontinued
in 2003 this generation of the Nissan Cefiro was Introduced Between 1988 and 1994. It is one of the Starting
Cars it does not need the method of unlocking.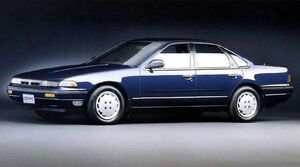 Customized Versions
Edit
Main Article: Mountain Conductor
The Mountain Conductor is the only custom version of this car
but it is lighter than the stock cefiro. Making it faster than the stock cefiro.
Specfications
Max Power: 205ps/6400rpm
Max Torque: 27.0kgm/3200rpm
Displacment: 1998cc
Aspiration: Turbo
Engine Type: L6
Tread R.: 1455mm
Tread F.: 1450mm
Wheelbase: 2670mm
Mass: 1360kg
Ad blocker interference detected!
Wikia is a free-to-use site that makes money from advertising. We have a modified experience for viewers using ad blockers

Wikia is not accessible if you've made further modifications. Remove the custom ad blocker rule(s) and the page will load as expected.