Information
Edit
Red Table Cloth is a member of rival team Knife and Forks in Tokyo Xtreme Racer: Zero. His name in Tokyo Xtreme Racer: Zero is Johnny Perkins. You can find him in Kanjyo Inner (in TXR:0). He is Rival #027 out of 400.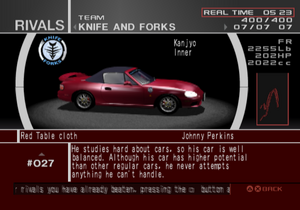 In-Game Description (TXR:0)
Edit
Initial Description
Edit
"Waiter at La Liberte. His smiling face lifts spirits at the restaurant and on the expressways. He lives by his creed of happy and safe driving."
Hint Description (Shown After Beaten)
Edit
"He studies hard about cars, so his car is well balanced. Although his car has higher potential than other regular cars, he never attempts anything he can't handle."
Car Information
Edit
They drive a Mazda Miata MX-5 1.8RS in Tokyo Xtreme Racer: Zero.
RGB: 119,10,29
RGB: 49,47,63
Car Specs
Edit
Tokyo Xtreme Racer: Zero
Edit
| Drivetrain | Weight | Horsepower | Displacement |
| --- | --- | --- | --- |
| FR | 2255 lb | 202 HP | 2022cc |
FR means front engine, rear wheel drive.
Ad blocker interference detected!
Wikia is a free-to-use site that makes money from advertising. We have a modified experience for viewers using ad blockers

Wikia is not accessible if you've made further modifications. Remove the custom ad blocker rule(s) and the page will load as expected.