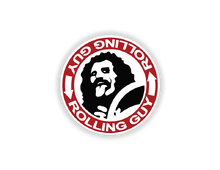 Rolling Guy is a reoccuring rival team in the Tokyo Xtreme Racer series. They can be found in the C1 Inner Loop, and just like in past games, still drive either the AE86 Levin and the AE86 Trueno in the game. Making an appearance in the 1st stage of the conquest mode, the team's lack of high-powered cars make them a breeze to beat like in the past games.
The team differs from its appearance in TXR0, because in TXR3, the original leader has left the team for an unknown reason, and his brother was made to take his place. Despite the original leader's leave though, the team still has 6 members because someone new has decided to join, thus keeping the amount of team members the same. All the original team members still drive the same cars that they originally drove in TXR:0.
Team Profile
Edit
"A famous team with a long tradition on the highway, it is organized with the AE86 type car that raced the mountain passes. Satoru Kobayakawa's younger brother, Tetsu, was inaugurated as the new leader of Rolling Guy. It is a hungry, spirited team, and with the love towards their cars and their well-polished technique, they battle furiously for power."
Strategies
Edit
Because they drive underpowered cars with light tuning, they are a breeze to beat and it's recommended that this team be the first that players defeat for easy cash. There's no particular recommended place to overtake them, as they can easily be overtaken both on the straights and in the corners.
This team is in every game in the Tokyo Xtreme Racer Series.
Just like a lot of the teams in-game, they generally drive the same kind of car (in this team's case, the AE86 Trueno and Levin).
The team's former leader is now a wanderer.
Pics of Rolling Guy Team Member's Cars
Edit