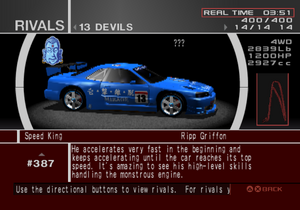 Speed King is one of the 13 Devils in Tokyo Xtreme Racer: Zero. This means that he is one of the 27 bosses (We count #400 as a boss) in TXR:0. Beat enough team leaders and all of the 13 Devils before him and he'll appear. His real name is Ripp Griffon.
In-Game Description
Edit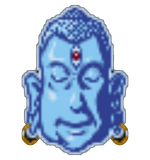 Initial Description
Edit
"A mysterious driver who appeared one day and defeated almost all leaders. Rumor says he's 40 years old and smells bad."
Hint Description (Shown After Beaten)
Edit
"He accelerates very fast in the beginning and keeps accelerating until the car reaches its top speed. It's amazing to see his high-level skills handling the monstrous engine."
Car Information
Edit
He drives a Type-R34RKK (Customized Nissan Skyline V-Spec R34).
RGB: 15, 89, 209
RGB: 15, 89, 209
Car Specs
Edit
| Drivetrain | Weight | Horsepower | Displacement |
| --- | --- | --- | --- |
| 4WD | 2839 lb | 1200 HP | 2927cc |
4WD means four wheel drive.
Ad blocker interference detected!
Wikia is a free-to-use site that makes money from advertising. We have a modified experience for viewers using ad blockers

Wikia is not accessible if you've made further modifications. Remove the custom ad blocker rule(s) and the page will load as expected.