The Stealth Fighter is Invisble Recon's car. It is a modified Mitsubishi Lancer Evolution VII that has a vinyl that matches the No Loser motif. The engine may come in stock, however it is lighter than the Stock version of the Mitsubishi Lancer Evo VII making it slighty faster. it is unlocked when No Loser is beat.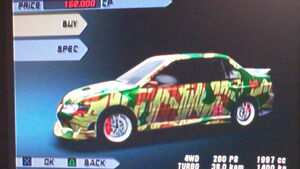 Specfications
Max Power: 280ps/6500rpm
Max Torque: 39.0kgm/3500rpm
Displacment: 1997cc
Aspiration: Turbo
Engine Type: L4
Drive Type: 4WD
Tread R.: 1515mm
Tread F.: 1515mm
Mass: 1400kg
Ad blocker interference detected!
Wikia is a free-to-use site that makes money from advertising. We have a modified experience for viewers using ad blockers

Wikia is not accessible if you've made further modifications. Remove the custom ad blocker rule(s) and the page will load as expected.