The Rook is the The Rook's car it is a modified Toyota Supra. The Horsepower comes
in stock but it is lighter than stock supra which would make it even faster on long straights.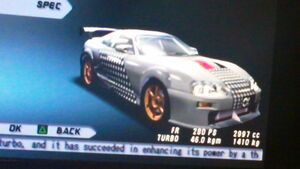 Specfications
Max Power: 280ps
Max Torque: 46.0kgm
Displacment: 2997cc
Aspiration: Turbo
Engine Type: L6
Drive Type: FR
Tread R.: 1525mm
Tread F.: 1520mm
Wheelbase: 2550mm
Mass: 1410kg
It is named after the Rook in Chess
Ad blocker interference detected!
Wikia is a free-to-use site that makes money from advertising. We have a modified experience for viewers using ad blockers

Wikia is not accessible if you've made further modifications. Remove the custom ad blocker rule(s) and the page will load as expected.