The Volkswagen New Beetle RSI is a German Atuomobile the name New Beetle comes from the
Nickname 'Beetle' used on the older Volkswagen Type 1 it was introduced in 1997 (Concept version) 1999 as a
2000 model (Production version). It is unlocked when you beat the leader of the M/R which is The Flame.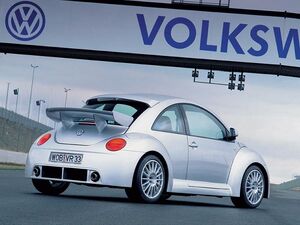 Specfications
Max Power: 225ps/6200rpm
Max Torque: 32.6kgm/3000rpm
Displacment: 3188cc
Aspiration: NA
Engine Type: V6
Drive Type: 4WD
Tread F.: 1555mm
Tread R.: 1555mm
Wheelbase: 2515mm
Mass: 1520kg
Ad blocker interference detected!
Wikia is a free-to-use site that makes money from advertising. We have a modified experience for viewers using ad blockers

Wikia is not accessible if you've made further modifications. Remove the custom ad blocker rule(s) and the page will load as expected.